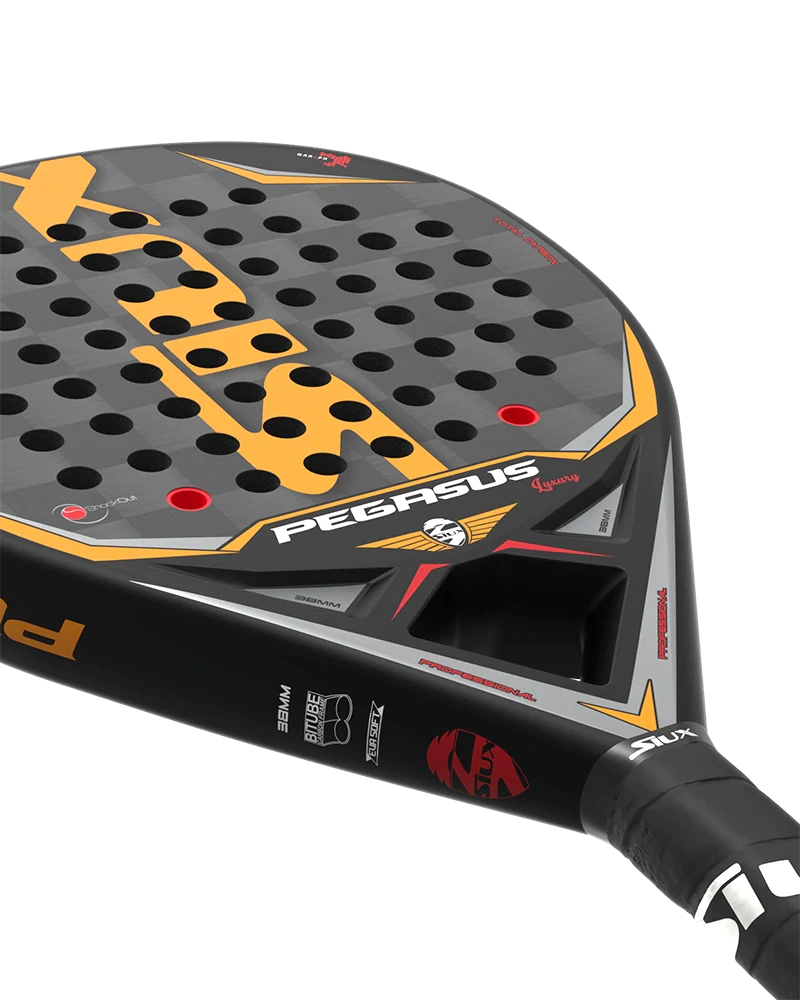 SKU: 102005
Padel Racket Pegasus Luxury Graphene 24K
---
| | |
| --- | --- |
| Gender | Unisex |
| Colour | Black |
| Weight | 350-365 Gr |
| Game Level |  Advanced, Intermediate |
| Shape | Teardrop |
| Seasson | 2022 |
| Frame | Carbon |
| Face | Carbono-24K, Grafeno |
| Core | Softeva |
| Surface | Smooth |
| Thickness | 38Mm |

The Word Power Falls Short To Describe The Siux Pegasus Luxury. Combining The Latest Generation Carbon With The Layers Of The New 24K Carbon, The Pegasus Luxury Offers The Most Outstanding Power Within The New Siux Rackets Thanks Also To Its Medium Balance.

This Combination Allows To Offer A More Comfortable And Harder Touch Than The Original Pegasus To Feel The Ball In Each Shot. In Addition, Its Wide Sweet Spot, The High-Density Black Eva Soft Rubber And The Graphene Incorporated In The Planes Provide A Plus Of Energy In All Hits.

Technologies:

Shockouts: Small Cylinders That Are Inserted Into The Holes Of The Racquets To Reduce Vibrations By Up To 60%.
Ehr: Eva Ultra Soft High Recovery Rubber With 5 Laminations. Designed To Provide Greater Speed In The Ball Output. In Addition, It Is A Rubber Known For Its High Recovery Speed After Each Blow.
Bitube Carbon Frame: To Provide The Racket With More Rigidity And Resistance, And Greater Hardness Against Breakage Due To Blows.
24K Carbon: Gives The Racket A Bit Of Flexibility On The Faces, Reducing Vibrations, A More Comfortable Fit, And An Impressive Ball Output.
Graphene: Fabric That Is Used In The Manufacture Of Padel Rackets Due To Its High Performance. Lighter Weight Than Carbon Fiber. This Fabric Gives The Racket An Increase In Power As Well As Rigidity And Strength.
Rowing Structure: Siux'S Own Technology Increases The Lightness And Manageability Of The Racket.